Calling ALL SEEDS participants from 1996-2014!
We want YOUR story!
If you have ever participated in a SEEDS program, we invite you to enter our first ever SEEDS Video Contest.
Yes, a VIDEO Contest!
Share your SEEDS Story, get Creative and win a Prize!
For the past 16 years, SEEDS has offered opportunities that have helped hundreds of students advance academically and professionally. We have contributed to diversity and cultural knowledge in ecology and you are the Shining Stars!  Now we invite you to share your favorite SEEDS moments. "How has the SEEDS Program impacted you?" – Your goals, your career, your life! Be the Producer, Director and Star in your own 3-minute video.
Your video may be selected for broadcast at the ESA Annual Meetings and on the SEEDS website. We want to bring your story to students who are new to SEEDS. We want to make sure the entire ESA community knows just how important SEEDS is so they are motivated to Mentor, Partner and Donate to SEEDS! And we want the world to know that YOU are making a difference.
Awards:
1st Place – $500            2nd Place – $300       3rd Place – $200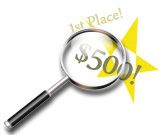 SEEDS Selection Committee will determine the best video submission – narrowing down to the top 5 finalists by early to mid May. Public voting will be selecting the top 3 Winners!
Who Can Submit?
Videos can be submitted individually, as a Chapter, or as a cool collaborative project!
Submit Entries to:
Upload your video on vimeo and share with only SEEDS vimeo under a free license. Questions or Concerns? Contact seeds@esa.org
Format:
Length: No more than 3 minutes
Content: You are the Star! Personal stories that show direct impact of SEEDS on your lives
Language: Any language – if not English, subtitles must be included.
Location: Any location
Required Slides:
Title Slide:  The text "Grow SEEDS" as well as ESA logo and SEEDS logo (ESA will provide standard image)
Video Content: You are the Star! Personal stories that show direct impact of SEEDS on your lives
Final Slide: The text "Grow SEEDS: Mentor, Partner, Donate," the SEEDS webpage link, plus credits for the video
Deadline: June 6, 2014.
It's a unique opportunity, the best work gets rewarded and a great way to help the program you believe in! So dust off the camera lenses and GET CREATIVE. Ready, Camera, Action!