GIS, spatial data, and conservation science workshop in the Greater Yellowstone Ecosystem
No prior GIS experience is required, but interest and desire to learn is a must.
September 11-15, 2023
(including travel days)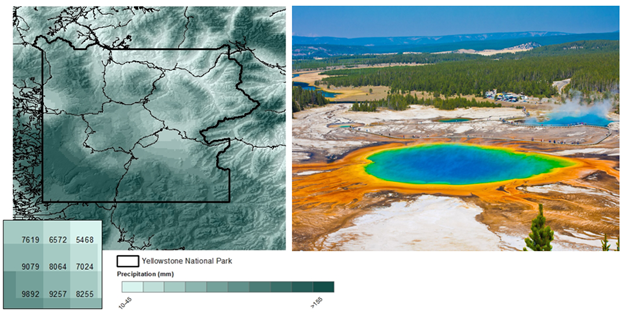 EcologyPlus is pleased to offer this workshop with long-standing partners, The Ecological Society of America's SEEDS program and The Wilderness Society. All travel expenses will be covered, made possible with funding from the National Science Foundation.
Check out similar past workshops.
Apply by June 23
The ability to organize, visualize, and summarize spatial data using Geographic information systems (GIS) is becoming an important skillset for professionals in a wide range of environmental disciplines. In this workshop you will learn basic principles and skills for working with spatial data using GIS software (ArcPro), including some basics of coding in R.
The workshop will kick off with a long day trip to Yellowstone National Park to learn about ecosystems of the Northern Rocky Mountains and conservation science. The field trip will also be an opportunity to make field observations that we will later compare with spatial data back in the office.
After the field trip, we will spend one full day working through several demonstration analyses where you will learn:
about different types of data,
how to bring data into software and display them in a meaningful way on a map,
some basic GIS tools, and
how to calculate summary statistics to answer ecological questions.
This is a great opportunity to see Yellowstone, learn some basic GIS principles and tools, and network with scientists and conservationists. No prior GIS experience is required, but interest and desire to learn is a must. The workshop is limited to 3 students.
Eligibility
You must be an undergraduate enrolled in a university or college in the continental US and able to travel between Sept 11-15.
You must have interest and a desire to learn about GIS
To apply please submit through the application form:
(1) a resume or CV
(2) a statement of interest that includes
why you are interested in the workshop
how you hope to use GIS and spatial data in your academic or professional career, and
your current understanding of GIS.
You will also be asked for your faculty adviser contact information.
Incomplete applications will not be reviewed.
Questions? 
Contact ecologyplus@esa.org