Opening Plenary
Sunday, August 7, 2016 5pm – 6:30pm Greater Ft. Lauderdale ♦ Hilton, Grand Ballroom
Lynn Scarlett, Managing Director for Public Policy
The Nature Conservancy
Synopsis: "Ecological Futures: People and Nature"
Abstract: Climate change, interconnected and large-scale ecological challenges, and the tight intersections of people and nature underscore the relevance of interdisciplinary and ecosystem services issue framing, large scales of action, and boundary processes that strengthen links between science, communities, and decision making. Drawing from experiences as a policy maker and connector of science and decision making, Lynn Scarlett will explore implications of the current and emerging context of ecological challenges for ecologists.
Brief Bio
Former Deputy Secretary and Chief Operating Officer of the US Department of the Interior, Lynn Scarlett is worldwide Managing Director for Public Policy at The Nature Conservancy. In this role, Scarlett directs all policy in the United States and the 69 countries in which TNC operates. Scarlett also served at Interior as the Acting Secretary of the Interior in 2006. While Interior's Deputy Secretary, she initiated and chaired the Department's Cooperative Conservation Working Group, and its first-ever Climate Change Task Force.
While at Interior, she established the Ocean and Coastal Activities office to coordinate cross-departmental ocean and coastal work and chaired the nation's Wildland Fire Leadership Council. Additionally, her service included placement on the Executive Committee of the President's Management Council. Scarlett is author or co-author of publications on climate change adaptation; ecosystem services; large landscape conservation; and science and decision making.
Currently, she chairs the Science Advisory Board of NOAA, co-chairs the Landscape Conservation Cooperatives Council established in 2014 by the U.S. Department of the Interior, co-chairs the National Academy of Sciences Sustainability Roundtable, and is a co-convening lead author of the National Climate Assessment. Previously, she also served on the US Global Change Research Program Committee.
She is on the Dean's Advisory Council of the Bren School of Environmental Science and Management at UC Santa Barbara. Scarlett serves on the National Wildlife Refuge Association boards of trustees and is a member of the Coordinating Council of the Practitioners' Network for Large Landscape Conservation.
Scientific Plenary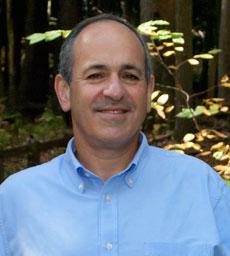 Monday, August 8, 2016 8am – 10am Greater Ft. Lauderdale ♦ Broward County Convention Center, Floridian Ballroom AB
Peter M. Groffman, Microbial Ecologist
Professor, CUNY Advanced Research Center and Brooklyn College, Department of Earth and Environmental Sciences.
Synopsis: "Ecological homogenization of Urban America"
Abstract: Urban, suburban and exurban ecosystems are an important and increasing novel ecosystem type in the U.S. An apparent, but functionally untested result of urban land use change is homogenization across cities, where neighborhoods in very different parts of the country have similar patterns of roads, residential lots, commercial areas and aquatic features that are more similar to each other than the native ecosystems that they replaced. Current research has been investigating this "ecological homogenization" of this "American Residential Macrosystem," the ecological impacts of this novel ecosystem type at local, regional and continental scale and the human factors that contribute to its stability and change.
New Phytologist Lecture
Monday, August 8, 2016 10:15am to 11:30am Greater Ft. Lauderdale ♦ Broward County Convention Center, Palm A.

Jeannine Cavender-Bares University of Minnesota
Synopsis: "Evolutionary legacies on ecosystems: implications for managing Planet Earth in the Anthropocene."
Jeannine Cavender-Bares is broadly interested in how functional traits of plants link evolutionary history to current ecological processes. In particular she seeks to understand how the evolutionary and biogeographic history of organisms influences community assembly, species composition and, hence, ecosystem function in the face of global change. Currently, her lab is combining phylogenetic and phylogeographic approaches with studies of plant physiological function to understand forces underlying shifts in stress tolerance among closely related species or among populations of the same species. They are also linking functional attributes of species to the ecosystem services they provide, and she is leading a SESYNC working group on the "Macroevolution of Ecosystem Services of Trees."
Research Interests
Physiological ecology of plants
Application of phylogenetic methods to ecology
Evolution of plant function, environmental gradients and local adaptation
Phylogeography and conservation
Ecosystem services of trees
Recent Advances Lecture
Wednesday, August 10, 2016 12:00pm to 1:15pm
Greater Ft. Lauderdale ♦ Broward County Convention Center, Floridian Ballroom A
John W. Williams University of Wisconsin-Madison. Director, Nelson Center for Climatic Research
John W. Williams is an expert on global warming and ecological responses to climate change, past and future. John is a Professor of Geography and Director of the Nelson Center for Climatic Research.
Title: Recent advances at the intersection of paleoecology, ecoinformatics, and global change research Abstract: These are exciting times for paleoecologists, biogeographers, and global change ecologists using the recent geological record to study species and community responses to global climate change and early human impacts. This renaissance in paleoecology is powered by the development of new proxies (e.g. ancient DNA, coprophilous spores, organic biomarkers) and more accurate dating techniques, the growth of community-curated data repositories (CCDRs) that enable large-scale biogeographic syntheses, the synthesis of paleoecological data networks with biogeographic models, and new methods for rigorous estimation of ecological variables from paleoecological data. Major questions in paleoecological research cross over to those in other arenas of global change ecology: understanding the synergistic forces that drive some species and populations to extinction, understanding the processes that allow some species and ecosystems to persist during periods of major environmental change, assessing the adaptive capacity of species to abrupt climate change, and assessing the predictive ability of ecological forecasting models when confronted by novel climates and novel ecosystems. In this talk, I will illustrate these advances with examples, mostly drawn from the last 20,000 years and from temperate and boreal ecosystems. At scales ranging from individual sites to continents, the timing and drivers of megafaunal extinctions are being constrained by syntheses of aDNA, ecological niche models, and more accurate radiocarbon dates. For example, on St. Paul Island, five independent proxies, including aDNA and coprophilous spores, provide one of the best-constrained estimates of timing of extinction for a prehistoric megafaunal population, while others suggest that freshwater shortages may have played a key driving role in extinction. Paleoecological data are being gathered into community-curated data repositories such as the Neotoma Paleoecology Database (www.neotomadb.org) and Paleobiology Database (www.paleodb.org) that are being interlinked through shared APIs and semantics. Continental-scale syntheses of fossil pollen data drawn from Neotoma enable testing of key biogeographic hypotheses, such as the velocity of species distribution shifts during rapid climate change, the stability of species-climate relationships, and whether we can substitute space for time when building biodiversity models. Advances on the horizon of adoption include automated fossil identification, seamless tracking of scientific data and metadata from field collection to publication and archival, and the development of Bayesian statistical models that incorporate multiple sources of temporal and proxy uncertainty. Together these advances are enabling increasingly precise, global-scale, and rich insights into species and community dynamics during periods of rapid environmental change, from the past ice ages into the Anthropocene.
 Awards and Achievements
Bryson Distinguished Professor of the Climate, People and the Environment Program
Philip R. Certain College of Letters & Science Dean's Distinguished Faculty Award (2008)
Cooper Award for outstanding contribution to the fields of geobotany, physiographic ecology or plant succession
Aldo Leopold Leadership Fellow (2011)