Public Affairs Program: Science for Policy and Policy for Science
ESA's Public Affairs Office manages the Society's public policy and media initiatives. Working closely with its elected leadership, we facilitate opportunities for members to engage beyond the scientific community through media contacts, press releases, social media, briefings, and one-on-one meetings with policymakers.  2017 proved to be a pivotal year for ecologists that moved most into engaging in policy at levels unseen in previous years. ESA Past-president Jane Lubchenco's penned a commentary on "Environmental science in a post-truth world," in Frontiers in Ecology and the Environment that resonated with members. ESA leadership and staff  quickly addressed some of the administration's policy actions, especially in concert with other scientific societies. For example, ESA's letter on scientific integrity and joint letters on the immigration ban, the importance of a president's science advisor appointment, are  a few. Communications to members from ESA President Lodge regarding the new administration and Policy News served to keep members up-to-date during a tumultuous period.
"Although the US election promises great changes, the laws of nature will  remain unchanged. These include the dependence of human welfare on clean water, clean air, well managed fish populations, abundant bees to pollinate our crops, and healthy ecosystems that provide the many other services that allow people to live happy and productive lives.  The Ecological Society of America will remain a source of discovery, knowledge and analysis to understand and manage biodiversity and ecosystems. As the largest society of professional ecologists in the world, ESA manifests the importance of innovative scientific research, and stands ready to share our knowledge with a new US president and Congress. This has been the case since its founding in 1915, and will be ever more important in a world which demands more and more from nature."  ESA President David Lodge, November 2016

Graduate Student Policy Award winners Ben Taylor (second from left) and Tyler Coverdale (second from right) with their BESC teammates in front of the Capitol during Congressional Visits Day.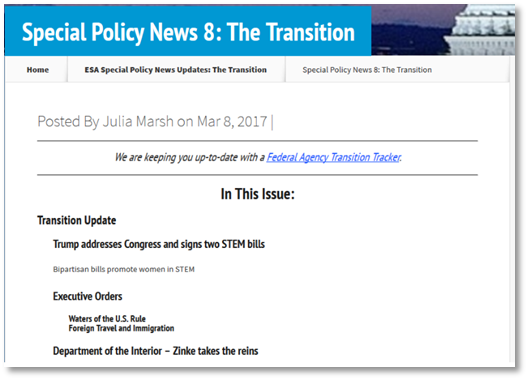 ESA issued a a special policy news series, "The Transition," to keep members up-to-speed about the first 100 days of the new administration. A sea change of policy positions released at a break neck speed kept scientists reeling.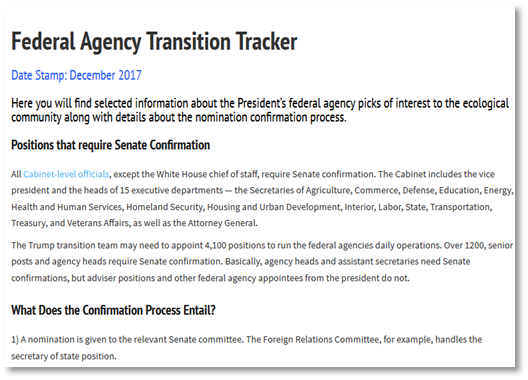 As with any new administration, political appointees head and lead most cabinet-level federal agencies. Nominees are confirmed by the Senate. The ESA Federal Agency Transition Tracker monitors the status of leadership positions of interest to ecologists.
The new administration submitted a draconian federal budget in March, called "The Skinny Budget" that would have decimated funding for scientific research. Congress largely rejected the presidential budget request. ESA developed a Federal Budget Tracker for FY 2018 for members to easily view the status of the federal budget.
Providing Opportunities for ESA Members to Engage in Policy
Graduate Student Policy Award
ESA brought six Graduate Student Policy Award (GSPA) winners to Washington, DC in April. This annual award provides graduate students in ecology with the opportunity to learn about policy and federal science funding and gain experience engaging in policy and communicating their science. Six recipients were selected for this year's award: Jason M. Aloisio (Fordham University), Tyler C. Coverdale (Princeton University), Anna M. Groves (Michigan State University), Christine J. Pardo (University of Miami), Jessica M. Rudnick (University of California, Davis), and Benton N. Taylor (Columbia University).
The GSPA winners, along with more than 30 other scientists, participated in a Congressional Visits Day co-organized by ESA and sponsored by the Biological and Ecological Sciences Coalition (BESC), which is co-chaired by ESA and the American Institute of Biological Sciences. This event offered the students the opportunity to meet with policymakers on Capitol Hill to discuss the importance of federal funding for the biological and ecological sciences. The BESC participants met with a combined total of over 80 congressional offices to support $8 billion for the National Science Foundation (NSF) in Fiscal Year 2018. They highlighted how federal investment in scientific research, specifically related to NSF's biological sciences directorate, benefits the constituents the lawmakers represent.
2017 Graduate Student Policy Award Cohort
2017 GSPA Cohort
Pictured left to right:
Benton N. Taylor (Columbia University)
Jessica M. Rudnick (University of California, Davis)
Jason M. Aloisio (Fordham University)
Christine J. Pardo (University of Miami)
Anna M. Groves (Michigan State University)
Tyler C. Coverdale (Princeton University)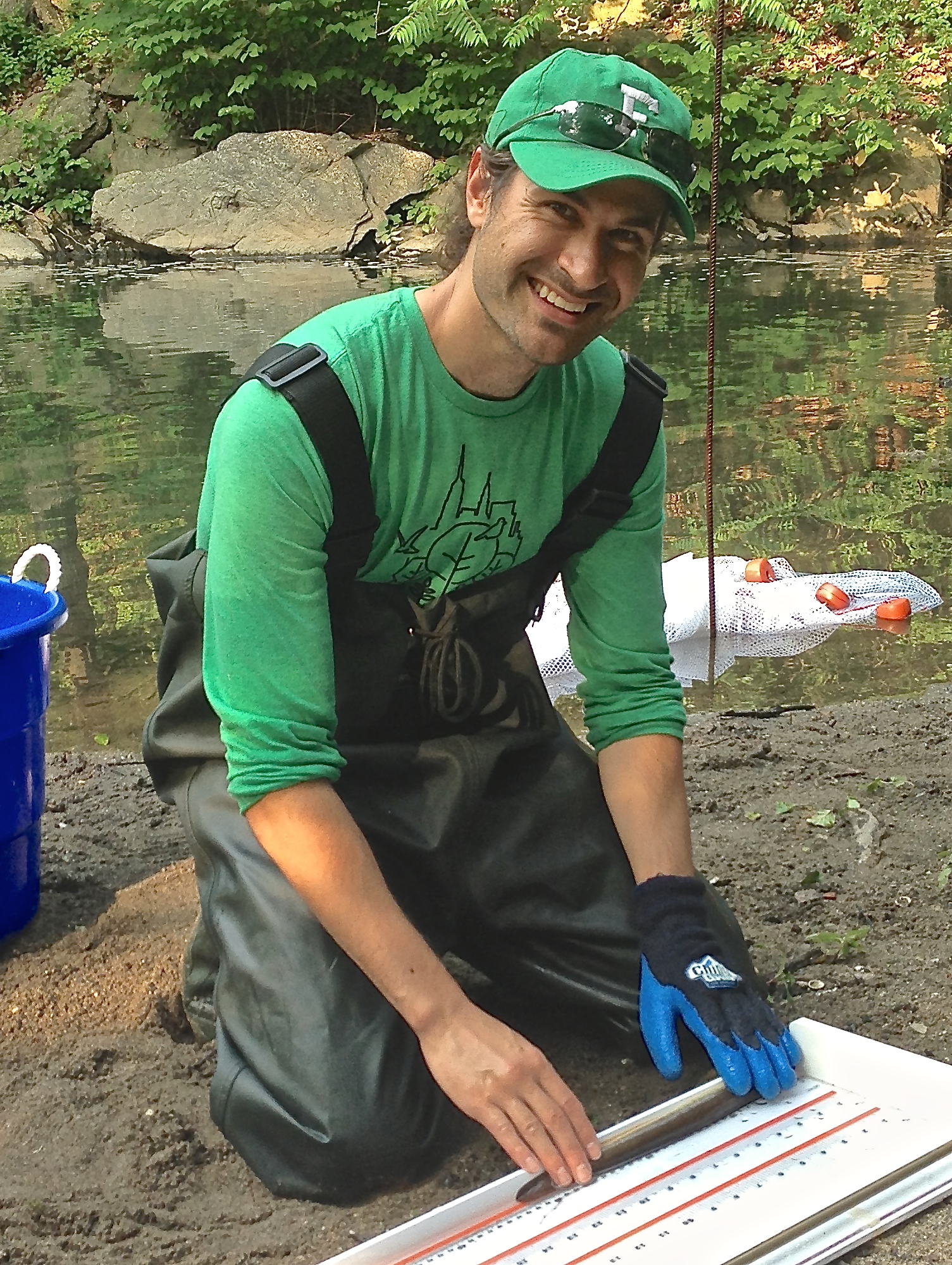 Jason Aloisio (left) with BESC Congressional Visits Day teammates outside the office of Sen. Kirsten Gillibrand (D-NY).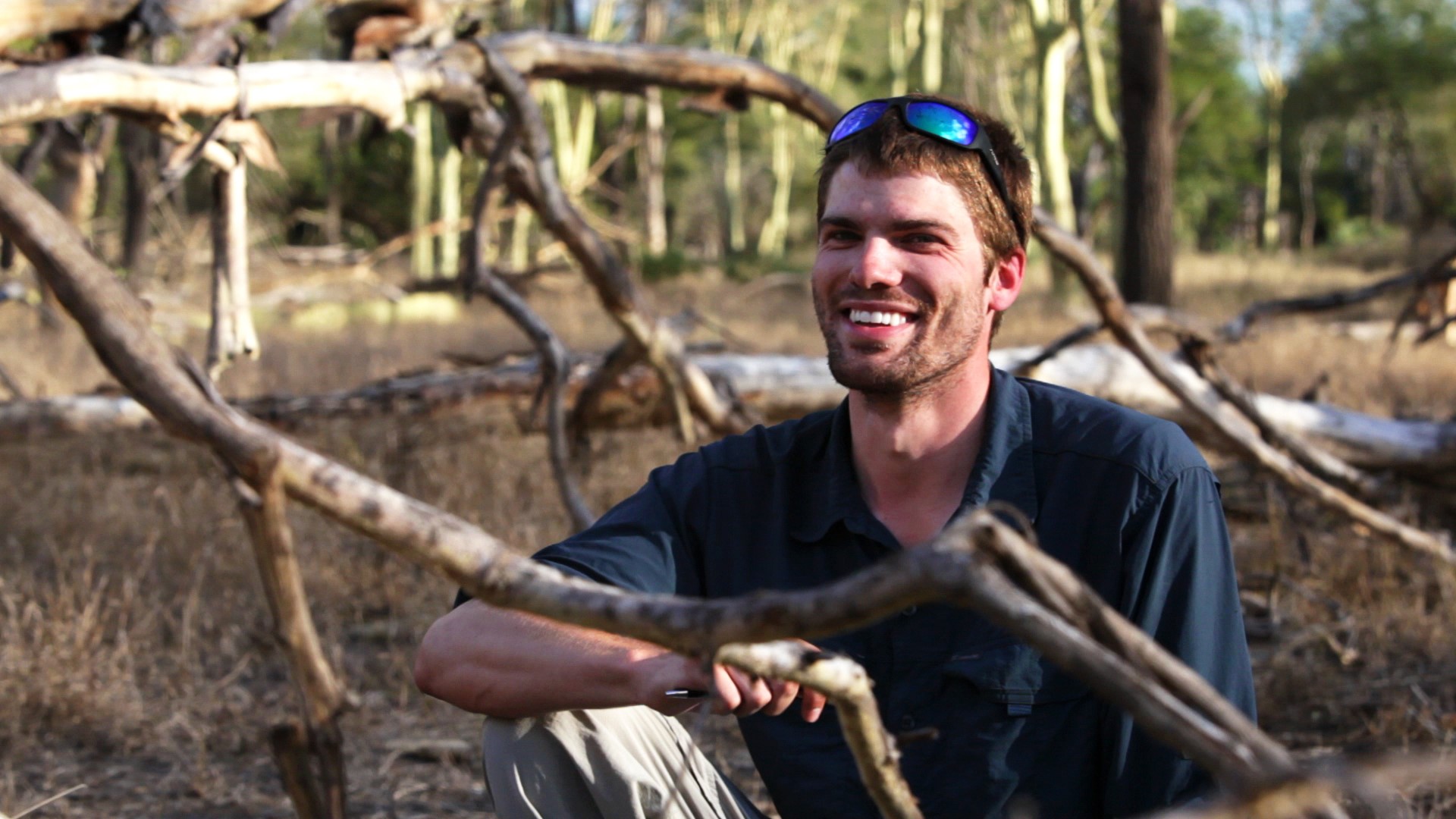 Tyler Coverdale outside the office of Rep. Marcia Fudge (D-OH).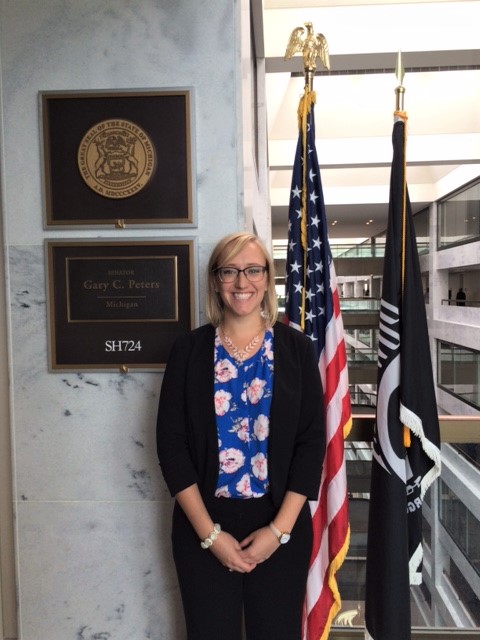 Anna Groves outside the office of Sen. Gary Peters (D-MI).
Christine Pardo outside the office of Rep. Carlos Curbelo (R-FL).

Jessica M. Rudnick
University of California, Davis
Jess Rudnick (left) and BESC teammate Brianna Zuber with Sen. Dianne Feinstein (D-CA) (middle).
Ben Taylor outside the office of Sen. Lamar Alexander (R-TN).
Before meeting with policymakers on Capitol Hill, the GSPA recipients and other participants in the BESC Congressional Visits Day received training on science policy, the federal budget, and meeting with lawmakers.
Coalition for National Science Funding Capitol Hill Exhibition
ESA joined 34 other organizations to participate in the 23rd Annual Exhibition and Reception of the Coalition for National Science Funding (NSF) on Capitol Hill, entitled "Investments in STEM Research and Education: Fueling American Innovation." This event, held on May 16, showcased research made possible by the National Science Foundation. Christopher Swan (University of Maryland, Baltimore County) represented ESA, presenting his research on biodiversity in river networks. NSF Director France Cordova stopped at each exhibit and spoke with those presenting.
Climate Science Hill Day
ESA members participated in Climate Science Day (CSD) for the third time in 2017. This annual education and outreach event is sponsored by the Climate Science Working Group (CSWG), of which ESA is a member along with other scientific associations. The goal is to advance understanding of climate science research with policymakers on Capitol Hill.   On March 21, twelve CSD teams of scientists from various societies conducted over 80 meetings with House and Senate offices and congressional committee staff. Meetings with freshman Senate and House members were prioritized along with lawmakers who serve on committees with jurisdiction over climate science. ESA member Jeffrey Dukes of Purdue University participated.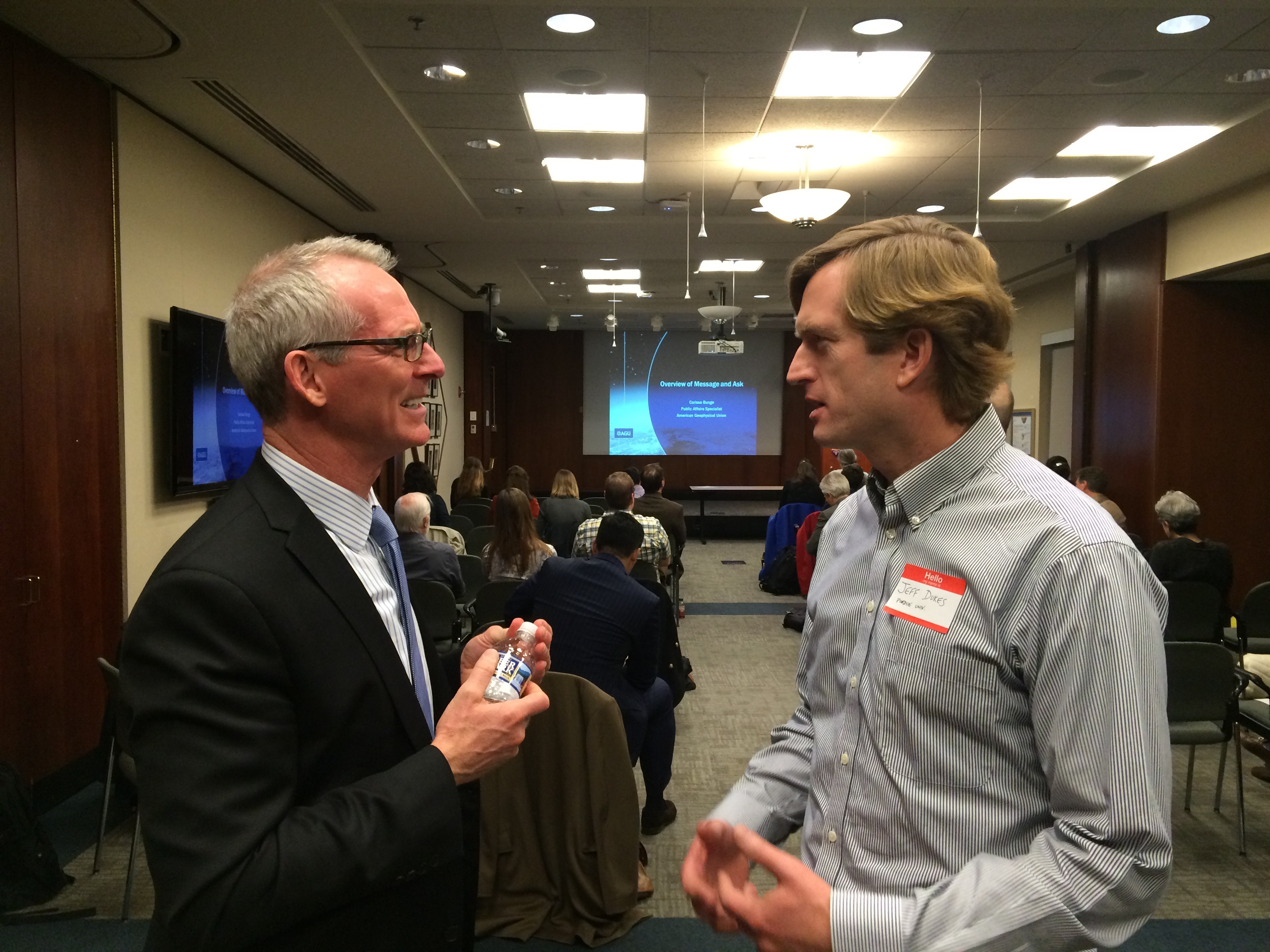 Bob Inglis, former Congressman (R-SC), and executive director of republicEn shared his experience with scientists on how to communicate shared values with lawmakers about our changing climate before they met with Members of Congress. Jeff Dukes (pictured right) spoke with him during a break.
ESA member Jeff Dukes met with Senator Joe Donnelly (D-IN) to discuss how ecosystems respond to climate and atmospheric change. Dukes is  Director of Purdue Climate Change Research Center and Professor of Forestry & Natural Resources & Biological Sciences.
Training for Effective Science Communication
In November 2017, the Public Affairs Office held the Society's first-ever Communicating Science Workshop at Bowie State University. This workshop, funded by an award provided by Wiley Publications and distributed by the ESA Governing Board, provided ESA members with the basics of science communication and public engagement. Attendees learned about effective science communication in a variety of settings and developed skills for engaging with the media, Congress, and other audiences. More workshops for members are planned for next year.
Rich Pouyat, ESA president 2017-2018, urged members to engage in policy.
Melissa Kenney, ESA Public Affairs Committee member, presented on Public Engagement. Steve Sheffield, Mid-Atlantic Section officer, hosted the group in Bowie State's platinum LEED building providing a great space for networking opportunities.
Press Releases
Selected press releases from ESA. Find all press releases in our Press Release page. ESA's press office assisted authors' institutions with over 60 press releases in the 2016-17 annual reporting year. Browse news stories featuring ESA programs, publications, policy initiatives, meetings, and awards on our ESA-in-the-News page.
Puff and lounge thermoregulation. American pikas can their moderate body temperature through posture (to some degree), squeezing into a fluffy ball, a body posture with minimum surface area, to hold in heat in winter (left), or stretching out the surface area of their bodies to cool down in summer (right). In recent years, pikas have been observed modifying their foraging habits in ways that may be behavioral adaptations to a changing climate. Credit, J. Jacobson, from figure 4 of EA Beever et al (2017) Front Ecol Environ doi: 10.1002/fee.1502.
Adorable alpine animal acclimates behavior to a changing climate
2017 Annual Meeting of the Ecological Society of America:  Linking biodiversity, material cycling and ecosystem services in a changing world 6–11 August 2017 FOR IMMEDIATE RELEASE: Tuesday, 1 August 2017 Contact: Liza Lester, 202-833-8773 ext. 211, LLester@esa.org As climate change brings new pressures to bear on wildlife, species must "move, adapt, acclimate, or die." Erik Beever and colleagues review the literature on acclimation through behavioral flexibility, identifying patterns in examples from invertebrates, amphibians, reptiles, birds, mammals, and fishes, in the cover article for the August issue of the Ecological Society of America's (ESA) journal Frontiers in Ecology and the Environment. The authors focus on the American pika (Ochotona princeps) as a case study in behavioral adaptation. Beever will explore factors that define the pika's distribution on Tuesday, August 8 at the ESA's 2017 Annual Meeting, held this year in Portland, Oregon. -> read the press release
Tree-climbing goats disperse seeds by spitting
FOR IMMEDIATE RELEASE
: Wednesday, 23 May 2017 Contact: Liza Lester, 202-833-8773 ext. 211, 
LLester@esa.org
In dry southern Morocco, domesticated goats climb to the precarious tippy tops of native argan trees to find fresh forage. Local herders occasionally prune the bushy, thorny trees for easier climbing and even help goat kids learn to climb. During the bare autumn season, goats spend three quarters of their foraging time "treetop grazing." Spanish ecologists have observed an unusual way in which the goats may be benefiting the trees: the goats spit the trees' seeds. Miguel Delibes, Irene Castañeda, and José M Fedriani reported their discovery in the latest Natural History Note in the May issue of the Ecological Society of America's journal 
Frontiers in Ecology and the Environment
. The 
paper is open access
. -> continue reading the
press release
Goats graze on an argan tree in southwestern Morocco. In the fruiting season, many clean argan nuts are spat out by the goats while chewing their cud. Credit: H Garrido/EBD-CSIC
Is biodiversity bad for your health? Ecologists writing in ESA's open access journal Ecosphere say the opposite is more likely true. The specter of a dangerous new disease emerging from the dark depths of the wilderness, jumping from an animal host to people, is an oft-told horror story, though such "spillover" from wild species is not the most common mechanism through which new diseases emerge. Several recent reviews have expressed concerns that intact ecosystems rich in biodiversity pose a danger to human health by harboring an equal diversity of infectious disease agents. Richard Ostfeld and Felicia Keesing authors review the evidence for emerging disease risk in both relatively intact, functional ecosystems and ecosystems strongly affected by human presence. Though high diversity in vertebrate species is sometimes correlated with a wider total pool of pathogen species, biodiversity is not linked to a larger number of pathogens with the potential to leap between species. Figure 1 of Ecosphere 8(3):e01676. 10.1002/ecs2.1676. Credit, ESA.
Biodiversity not a risk factor for emerging diseases and other new research from ESA journals
FOR IMMEDIATE RELEASE: Thursday 30 March 2017 Contact:   Liza Lester  202-833-8773 ext. 211, LLester@esa.org
Ecological Society of America tipsheet for 30 March 2017
Biodiversity is not a risk factor for emerging disease
Understanding the underground dynamics of grassland mosaics
Eurasian tree sparrows feed their nestlings hoverflies, reducing biocontrol of aphids in cereals
Livestock grazing impact on sage-grouse depends on when and how much
Nest boxes not always the best way to understand or boost bird populations
Defusing conflict around invasive species management
-> read the press release
Fire-scarred trees record 700 years of natural and cultural fire history in a northern forest
FOR IMMEDIATE RELEASE: Wednesday 1 March 2017 Contact: Lars Sandved Dalen, NIBIO, Lars.Dalen@nibio.no Liza Lester, ESA, 202-833-8773 ext. 211, LLester@esa.org Until the modern era, the human mark on the northernmost forests of North America, Europe, and Asia was light. Human populations in these challenging environments were too small to make a big impact through agriculture or timber harvests. But increasing evidence indicates people influenced the northern forests indirectly, by igniting or suppressing fires. Distinguishing human from climatic influence on historical fire patterns is critical to forest management planning, which is guided by historical patterns of fire frequency, size, and intensity. A boreal forest nature reserve in southern Norway offered a unique opportunity to reconstruct past events, as scientists from the Norwegian Institute of Bioeconomy Research (NIBIO) demonstrated in a report published online ahead of print in the Ecological Society of America's journal Ecological Monographs. The trees told a story of a surge in human-instigated fires during the 17th and 18th centuries, followed by fire suppression after AD 1800, as economic motivations changed. ->read the press release
Social Media
Public Affairs manages ESA's social media accounts, including Twitter (28,600 followers) and Facebook (11,698 followers).
Public Affairs Office Staff
Director: Alison Mize
Public Information Manager: Liza Lester
Public Affairs Officer: Julia Marsh
Communication Intern: Maggie Williams
Public Affairs Assistant: Leah Cass
Public Affairs Committee
Vice President: Frank Davis
Bruce Byers
Dan Evans
Melissa Kenney
Laura Petes
Johnny  Quispe
Ex-officio: David Lodge