2021-2023 Featured Mentor Bios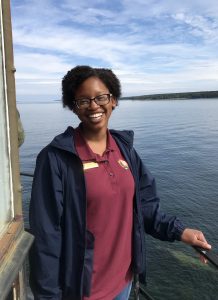 Shanasia Sylman is Outdoor Recreation Planner at the National Park Service. She has been with NPS since 2018 first with the Denver Service Center (DSC) Planning Division and now with the Rivers, Trails and Conservation Assistance (RTCA) program. She holds a Master's degree in Urban Planning from the Harvard Graduate School of Design. Shanasia lives and works in Philadelphia, PA and is very passionate about park planning, assisting communities and watching sitcom reruns. 
D
r. Randall Hughes is a Professor in the Department of Marine and Environmental Sciences and Associate Dean for Equity in the College of Science at Northeastern University. She joined Northeastern in 2013, after earning a Bachelor's degree in Biology and Public Policy Analysis at the University of North Carolina, Chapel Hill and a Ph.D. in Ecology at the University of California-Davis, where she also conducted postdoctoral research. Her research focuses on understanding the ecological and social causes and consequences of biodiversity change, and applying that knowledge to the conservation and restoration of marine systems.  
Dr. Heidi Weiskel is a marine ecologist and Staff Scientist with the Environmental Law Alliance Worldwide, where she leads the Marine Program and collaborates with 400 partners in 80 countries around the world.  She has holds a PhD from the University of California, Davis, where she studied the effects of nutrient pollution on marine invertebrates. She also serves as an Advisory Council Member of the Estuary & Ocean Science Center at San Francisco State University (SFSU) and is a member of the International Union for the Conservation of Nature Marine Connectivity Working Group.  
Michelle Nelson is Community Garden Program Manager at Montgomery Parks, a department of Maryland national Capital Park and Planning Commission where she manages 12 community gardens that serve over 500 residents in Montgomery County, MD. Michelle holds an MS degree from North Carolina A&T, an 1890 Land Grant Institution and is very passionate about urban agriculture, people, and partnerships. In her spare time, she enjoys hiking, cooking, traveling (pre-COVID), and funky creative outlets like metal smithing, jewelry making, pottery, and painting
2021-2023 Mentors
Dr. Valerie S Banschbach, Associate Provost, Dean of Sciences and Education, Professor of Environmental Science at Gustavus Adolphus
Dr. Jonathan Berenguer Uhuad Koch, Research Entomologist at the USDA-Pollinating Insect Research Unit
Kevin Bryan, Principal at Equnival Partners LLC
Marina Castro, Senior Environmental Engineer at EPA
Gary Geck, Civil Engineer and Urban Planner at Mott MacDonald
Sharon E Hartzell, Remedial Project Manager at EPA
Dr. Ann Ruzow Holland, Self-employed Consultant/Research Scholar at Antioch University of New England
Dr. Randall Hughes, Professor at Northeastern University
Dr. Emily Klein, Aquatic Sciences Officer at Pew Charitable Trusts
Michelle Nelson, Community Garden Program Manager/Horticuluralist at Maryland National Capital Park and Planning Commission
Marielena Octavio, Mediator and Program Manager at Meridian Institute
Dr. Anthony Orr, Wildlife Biologist at NOAA-Marine Mammal Laboratory
Shanasia Sylman, Outdoor Recreation Planner at National Parks Service
Dr. Heidi Weiskel, Marine Program Director/Staff Scientist at Environmental Law Alliance Worldwide